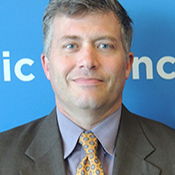 Steven Horrell
US Navy Senior Fellow, Brent Scowcroft Center on International Security, Atlantic Council
Steven Horrell is the US Navy senior fellow in the Atlantic Council's Brent Scowcroft Center on International Security.
Captain Horrell has been a naval intelligence officer since commissioning in May 1991. He was most recently the director of intelligence at the Joint Intelligence Operations Center Europe (JIOCEUR) Analytic Center at Royal Air Force (RAF) Molesworth United Kingdom, where he led 300+ military and civilian personnel conducting all intelligence analysis and production for Commander, US European Command. His work at JAC Molesworth was recognized with the 2015 Vice Admiral Rufus L. Taylor Award for Leadership.
CAPT Horrell's operational / sea duty assignments include deployments to the areas of responsibility of US European Command, US Africa Command, and US Central Command with an aircraft carrier based squadron, an amphibious staff, and joint task force staffs. Shore duty has included assignments in Washington, DC; Hawaii; Canberra, Australia; and Naples, Italy.
CAPT Horrell holds a bachelor of science in history from the United States Naval Academy and a masters in strategic studies from the US Army War College.