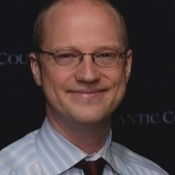 Magnus Nordenman
Director, Transatlantic Security Initiative
Magnus Nordenman is a Director of the Transatlantic Security Initiative with the Brent Scowcroft Center on International Security at the Atlantic Council. He leads and manages the Scowcroft Center's projects and programming related to transatlantic security, the future of NATO, Nordic-Baltic defense, and maritime issues. He is a sought-after expert who has provided advice and insights to the US government, NATO, allied and partner governments, and the corporate community. He has also provided commentary to, among others, the BBC, Al Jazeera, MSNBC, Defense News, US Naval Institute, the Atlantic Monthly, Time, Vice News, Defense One, as well as European media outlets. He is the author of two recent Council reports, NATO in an Era of Global Competition and The Naval Alliance: Preparing NATO for a Maritime Century.
Magnus' other duties include leading major business development efforts for the Scowcroft Center, expanding and maintaining relationships with the US government, ministries of defense and foreign affairs of US friends and allies, corporate actors, and the broader Washington policy community. He also provides budgetary oversight and helps oversee the operations of the Scowcroft Center, the largest program at the Council.
Before coming to the Council, Magnus worked as a defense analyst with a consulting company in Washington, where he focused on the US defense budget, US foreign basing, the unmanned vehicles market, and current US military operations. He has also worked as a training adviser at the Pearson Peacekeeping Center in Canada, where he built scenarios to be used in command post exercises by, among others, the Canadian forces, the United States Marine Corps, and the United Nations. He also worked as a strategic planning consultant for major European defense industry companies.
Magnus was educated at the Virginia Military Institute, and earned his MA in national security studies from the Patterson School of Diplomacy at the University of Kentucky. He has also studied strategy and military history at the German Armed Forces University in Munich. A proud American immigrant, Magnus came to the states from Sweden in 1998.