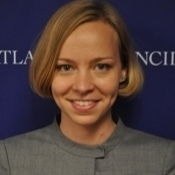 Laura Linderman
Nonresident Research Fellow, Dinu Patriciu Eurasia Center
Laura Linderman is a research fellow with the Dinu Patriciu Eurasia Center. Her research focuses on Georgian politics, economics, and foreign relations. Previously, she served as the Eurasia Center's associate director. In that position, she developed and shaped analytic and intellectual work on Georgia and supported work on Turkey, Ukraine, Moldova, Armenia, and Azerbaijan and executed related event programming. She maintains relationships with Georgian government, opposition, and civil society representatives and the wider Washington policy community.
Prior to joining the Atlantic Council in 2012, Linderman served as education services coordinator for Splunk, a software company. She was also a Peace Corps volunteer in western Georgia, where she taught English at the Pedagogical Industrial College of Ozurgeti and served as president of the national Student Women Alliance Network. In 2002 to 2003, she interned at Georgia's premier think tank, Liberty Institute, where she examined corruption in higher education at Tbilisi State University and supported the Institute's program to draw attention to discrimination against religious minorities. She has published and edited articles on Georgia for the Atlantic Council, Foreign Policy, the Anthropology of East Europe Review, Liberty Institute, and theGlobal Post.
Originally from Minnesota, Linderman holds a BA in anthropology and German language and literature from Wellesley College and an MA from Indiana University in anthropology. Her master's thesis is on gender in rural western Georgia and is based on fieldwork conducted there in 2009.
She speaks Georgian and is proficient in Russian and German.