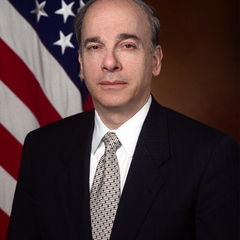 Franklin D. Kramer
Distinguished Fellow, Brent Scowcroft Center on International Security
The Honorable Franklin D. Kramer is a national security and international affairs expert and has multiple appointments, including as a member of the Atlantic Council Board of Directors and also a member of its Strategic Advisors Group.
Kramer has been a senior political appointee in two administrations, including as Assistant Secretary of Defense for International Security Affairs for President Clinton, Secretary Perry, and Secretary Cohen; and as Principal Deputy Assistant Secretary of Defense for International Security Affairs.
In the nonprofit world, Kramer is a Distinguished Fellow at CNA, which operates the Center for Naval Analysis and the Institute for Public Research; is Chairman of the Board of the World Affairs Council of Washington, DC; is a Capstone Professor at the Elliott School of International Affairs at the George Washington University; and has been a Distinguished Research Fellow at the Center for Technology and National Security Policy of the National Defense University. In the private sector, Kramer is a director and consultant and has been a Partner at the law firm of Shea and Gardner.
Among his current activities, Kramer is the principal editor and has written several chapters for the book Cyberpower and National Security, led the study on and is the principal author of Civil Power in Irregular Conflict, and is the coauthor and was co-project director of Transatlantic Cooperation for Sustainable Energy Security. At The George Washington University, he teaches a course entitled "The Department of Defense and Winning Modern War." He has written numerous articles on international affairs.
Kramer received a BA cum laude from Yale University and a JD magna cum laude from Harvard Law School.