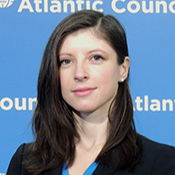 Alina Polyakova
Deputy Director, Dinu Patriciu Eurasia Center
Alina Polyakova, PhD, is the deputy director of the Dinu Patriciu Eurasia Center at the Atlantic Council, where she is engaged with the Council's work on Russia and Ukraine. Dr. Polyakova is a frequent media commentator on developments in Ukraine, Russia, and Europe. Her writings have appeared in major publications and academic journals including the Wall Street Journal, Foreign Affairs, Foreign Policy, The American Interest, Newsweek, The Journal of European Public Policy, and Comparative Politics. Dr. Polyakova is an expert on far-right movements and parties in Europe, her book on this topic, The Dark Side of European Integration, was published in August 2015 with ibidem and Columbia University Press.
Concurrently, Dr. Polyakova is a Swiss National Science Foundation senior research fellow and coinvestigator on a multi-year project examining the rise of far-right political parties in the European Union. She is also a Eurasia foundation fellow. Before joining the Atlantic Council, she was a fellow at the Woodrow Wilson International Center for Scholars, the Fulbright Foundation, the National Science Foundation, the Social Science Research Council, the International Research and Exchanges Board (IREX), and a senior research fellow and Lecturer at the University of Bern.
Dr. Polyakova has served as an adviser to non-governmental organizations in Europe and the United States working to promote democratic transparency, accountability, and governance reform in Eastern Europe generally and in Ukraine particularly, including most recently the Open Government Partnership.
Dr. Polyakova holds a PhD and MA in Sociology from the University of California, Berkeley, and a BA in Economics and Sociology with highest honors from Emory University. Originally from Kyiv, Ukraine, she speaks Russian and German.